LADIES!  It's Ladies Night time!  Fall is the best time to get the girls together for some art therapy.  Our Ladies Night on Saturday, November 14 from 7-11pm is now FULL.  We have added a second night – SUNDAY, NOVEMBER 15 from 7-11pm**.  All the Studio Fees will be 1/2 off, plus we will have food, drinks and raffles!  This is one of our most popular events, so sign up early to guarantee your spot!
*Must be 19 years of age to attend.  $10 Cover Charge each.  $5 Cover Charge each for groups of 4 or more.
**This date will need a minimum of 20 signed up to move forward.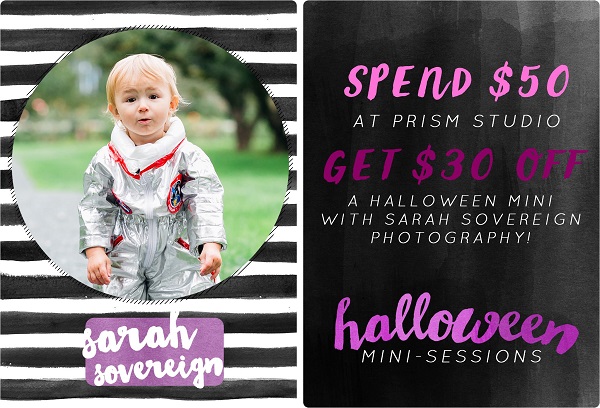 For the month of October we are proud to partner with one of the Fraser Valley's most talented photographers, Chilliwack's own Sarah Sovereign Photography.  Sarah is responsible for a lot of the designed promos you see on this website and on our Facebook page.  She is incredibly talented and takes beautiful life style photos like no other.
You can check out her full website and pricing here Sarah Sovereign Photography
Reg. Price SSP Halloween Mini Session Details ($160) – 20 Minute Session, Print Release, 10 Digital Files, 2 Studio Fees to PRISM Studio Fees.  Offer is valid until November 1, 2015.  Session slots are limited, contact SSP and BOOK EARLY!  Discounted Mini's do not include Free Studio Fees.  $30 vouchers are while supplies last.